Monday, 30 March 2022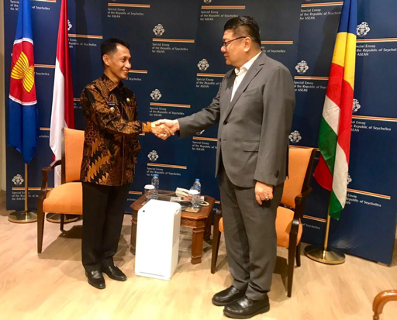 Provision of Technical Assistant from Seychelles
The Regent of Wakatobi, Bupati Haji Haliana and the respective officials conduct courtesy to the Special Envoy Seychelles for ASEAN, Mr. Nico Barito in Jakarta, today.
This is following up to the recent public lecture by His Excellency Mr. Barito on February, 10 2022 - Best Practice for Blue Economy-Based Marine Tourism Development at The Academic of Marine and Fishery at Wakatobi.
During the visit, the Seychelles delegations have the opportunity to observe the potential of Wakatobi, its marine tourism, fishery and aquaculture.
The outcome of meeting in Jakarta this morning is a leap of action, whereas both Bupati of Wakatobi and the Special Envoy of Seychelles have confirmed the readiness to collaborate on the strategic development of new market, upgrading the existing facilities and utilities, improvision of local wisdom by socialization, capacity building and training on sustainable tourism and responsible fishery for the communities, especially the youth and women entrepreneurship.
Wakatobi and Seychelles have entered a Letter of Intent to collaborate on Sustainable Tourism and Blue Economy, during the inauguration of Aspeksindo board members on February, 24 2022. The Bupati of Wakatobi is currently the Secretary General of Aspeksindo (Association of Local Governments of the archipelago and coastal area of Indonesia) whose members consist of 330 kabupaten (regent) and kota (municipality) link to coast and islands in Indonesia.