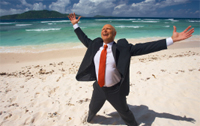 All Offshore activities are regulated by the Seychelles Business Authority (SIBA) established in 1995. Activities in the 'Offshore Sector' are set out below:
- Company Special Licensed (CSL)
- Limited Partnership
- Protected Cell Companies
- Offshore Insurance, Mutual Funds and Securities
- Ship Registration

Around 8,000 new international business companies were registered in the 'Offshore Sector' during 2006. In order to ensure the efficient operations of that sector, local Corporate Service Providers offer 24 hour service to their offshore clients.