Friday, 27 March 2020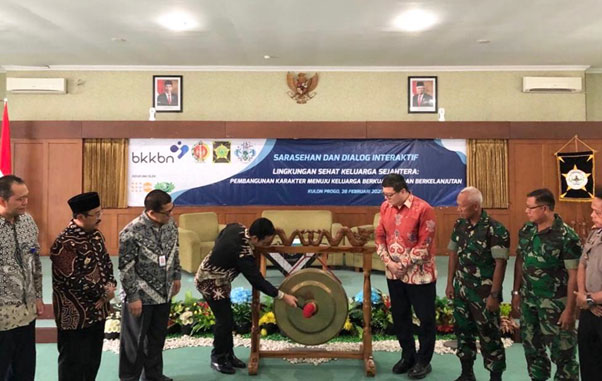 The Chairman of BKKBN (Indonesia National Board of Population and National Planning), Dr. Hasto Wardoyo together with the Regent of Kulon Progo, Mr. Sutejo and the Special Envoy of Seychelles for ASEAN countries, Mr. Nico Barito launched the program of LSKS 'Healthy Society, Prosperous Family' and have designated the pilot project at the districts of Wates, Panjatan, and Temon at the Kulon Progo regency on Friday, 28 February 2020. The launching was attended by the Speaker of Regional People's Representative Council of Kulon Progo, government representative of Yogyakarta Province, district head, village chief, youths and elders, supported by the Tzu Chi Foundation and UNFPA Indonesia (UNFPA is a UN organization for population).
LSKS, a program on character-building for families, youths, and elders - a breakthrough for the families to practice healthy community living, waste sorting, remain a clean neighborhood and discontinue using river as septic tanks or for discharge of household waste.
This program is initiated through the Center of Excellence which was launched by BKKBN and Seychelles Ministry of Family Affair in 2017 to share under the South-South Cooperation the success stories of Indonesia family welfare to Seychelles and beyond to Africa
Seychelles being one among the main tourism destinations has people and community awareness to adopt clean environment and conserve nature from the early age. Similar practice will be introduced to Kulon Progo which is one among the tourism gateways of Indonesia at Yogyakarta.
The event was marked by a joint-communique signed by the stakeholders present to realize character building for healthy family and clean society towards national sovereignty.
Media link : Antara News, kulonprogokab.go.id