Monday, 16 May 2016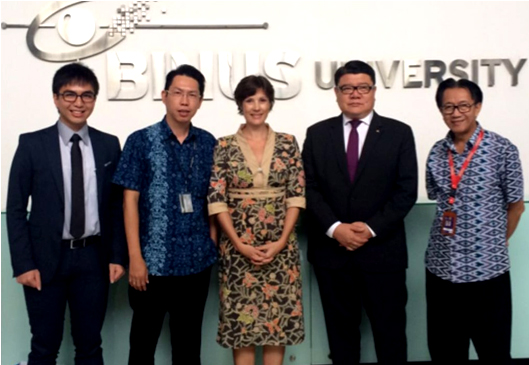 Special Envoy of Seychelles for ASEAN, His Excellency Mr. Nico Barito conducted courtesy call to Bina Nusantara University (BINUS), a leading campus on ICT in Indonesia on the occasion of the 35th anniversary of BINUS. Mr. Barito congratulated BINUS founder members, the board of management and the 30,000 students of BINUS for the achievement of result and to be a leading private university on ICT education in Indonesia.
Mr. Barito and the board of directors of BINUS shared their common vision on education and explore the possibilities to develop a join program between BINUS and University of Seychelles to develop twining program for African students and introduce distance learning.
Mr. Barito, who serves as Secretary General of FORSEAA 'Forum of Small Medium Enterprise AFRICA ASEAN' mentioned the huge 1,2 billion population in Africa, and the how Seychelles can be the hub to accelerate people to people contacts between Seychelles – Africa and Indonesia – ASEAN through modalities of education, especially on information communication. He reiterated that one of FORSEAA mission is to create new economy for young and creative entrepreneurs especially through science and technology innovation.
Presence in the meeting Vice Rector of BINUS Drs. Andreas Chang and BINUS Global Director Ms. Karen Imam, accompanied by the Dean of School of Design Mr. Minaldi Loeis, Dean of School of International Systems Mr. Johan Yang, Head of Business Information System Mr. Samuel Mahatma Putera, Overseas Program Manager Ms. Rokoyah Andariani, Manager for Collaboration Ms. Theodora Subyantoro and Manager of International Office Ms. Laily Alfa and FORSEAA Program Officer Mr. Josua Somba.