Wednesday, 05 May 2016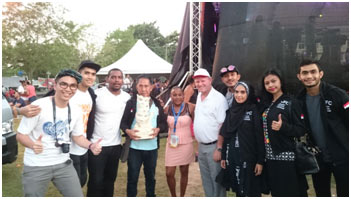 Minister of Tourism & Culture of Seychelles,Mr.Alain St Ange awarded the winner trophy to Mr. DinandFariz of JFC, Indonesia
Indonesian delegation was awarded the top 3 best Carnival in Seychelles,along with Notting Hill (UK) and Reunion Island. More than 30 countries took part the International Carnival de Victoria from 22 to 24 April 2016.
The delegation of Indonesia was represented by professional carnival performer from Kabupaten Jember the "Jember Fashion Carnaval" (JFC) featuring ethnic and nature (ETHNATURE). Mr. DynandFariz, founder of JFC expressed his cordial gratitude to the government of Seychelles for hosting their participation in the carnival in Seychelles, which has lead JFC to achieve international acknowledgement.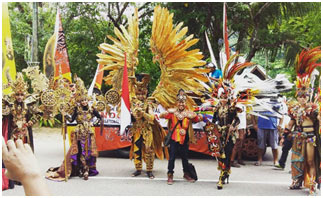 Josua Somba from Seychelles mission in Jakarta, inform that the 'Carnival of Carnival' in Seychelles has been held annually from 2011. It has been a melting pot to show case cultures from various nations and highlight tourism.