Wednesday, 27 July 2015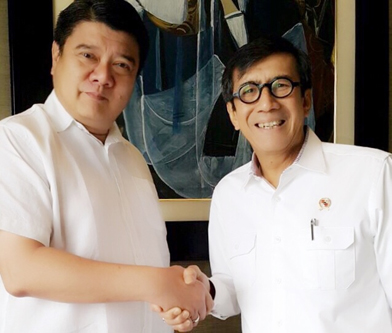 All Seychellois can obtain visa at the Indonesia International Airports, Harbor and Cross Border which are facilitating Visa on Arrival.Seychelles is among the 6th African Country granted with Visa on Arrival by Indonesia, after South Africa, Algiers, Maldives and Tunisia.
The Minister of Law and Human Rights of The Republic of Indonesia, Mr. Yasona H. Laoly recently passed a copy of the Regulations of Minister Number 3 /2015 dated 03 June 2015 to Mr. Nico Barito, Special Envoy of Seychelles, which include Seychelles as the 69th nations provided with Visa on Arrival facility.
http://www.imigrasi.go.id/index.php/en/policies/regulation-of-the-minister
.
The system has been put into force and all Seychellois travelling to Indonesiaare now eligible to apply Visa on Arrival (VOA) at Indonesia. This visa can be obtained directly when you arrive regardless of the purpose of your visit (Business, Tourist, Social -Cultural). Visa on Arrival is neither a work visa. Therefore, it cannot be extended or converted into another immigration permit. The maximum stay permitted is thirty (30) days.
The general requirements for visa on arrival are:
The applicants passport MUST have a clean page for the VOA sticker: passengers having a passport without a clean page are routinely rejected. The applicant's passport must also be valid for at least 6 (six) months from the date of entry. Airplane ticket and booking out of Indonesia - some immigration officers won't accept "open" tickets or bookings that are beyond the 30 day visa being granted and will require the passenger to show proof of a confirmed flight out. Fee: USD.35 for 30-day Visa (day of entry and day of departure each count as one day)
The provision of visa on arrival facility for Seychellois by The Minister of Law and Human Rights of Indonesia is considering to the principle of mutual benefit for economic, trade and social ties and does not cause a security breach. Special Envoy of Seychelles, Mr. Barito stated that the visa on arrivalwill increase the Seychellois people to travel more to Indonesia and enhance greater people to people contact, trade and tourism between our two countries.
The existing good friendship between Seychelles and Indonesia have coherence ties based on mutual respect and these will be further strengthened by the development of our tourism, culture and trade exchanges.
Being a small nation in the Indian Ocean, Seychelles of 115 island with a population of around 95,000 people has developed good relationship with Indonesia both at national and local governments and its businesses. Indonesian local governments has participated annually at the Seychelles International Carnival and the hotels and tourism facilities in Seychelles also rely much on supply from Indonesia such interior products, handicraft and gift items.
Indonesian do not need a visa to travel to Seychelles which is one the niche eco-marine tourism destination of the world.